It is something everyone aspires to have each Christmas – the perfect Christmas tree. But what makes a Christmas Tree perfect? Well that all depends on individual taste and where you plan on putting it. The first big question is….
Artificial or Real Tree?
ARTIFICIAL TREE
One huge bonus with a fake tree, apart from them not dropping a single needle, is that once you've paid for your artificial tree it means you don't need to buy a new one every year, making Christmas a little bit more affordable. The downside is that the 'Carbon Trust' estimates that a two-metre-tall artificial tree has twice the carbon footprint of a real tree that ends up in a landfill. If that real tree is burned, then the artificial tree's footprint is ten times as large. Fake trees are made from plastic and metal which takes a lot of energy to produce. Offsetting this will take time in fact you would need to keep your artificial tree for at least ten years for it to offset its carbon footprint. Plus, at the end of the day an artificial tree will end up in landfill as they are not able to be recycled.
REAL TREE
The obvious one is that it's authenticity – for some a real Christmas tree is the only way to go. The tradition of picking out the perfect tree with family can't be beaten and becomes a tradition year on year. Christmas trees are grown on farms, so they are not destroying natural woodland or forests and farmers will plant another tree in the place of every fully-grown tree that is cut down, making them sustainable. Plus, when Christmas is over, rather than end up in landfill sites, real trees can be recycled. And let's face it, you can't beat the smell of a real tree!
If you are opting for a real Christmas tree then there are many different varieties to choose from all with their own unique characteristics. So, here is a handy guide for you.
Nordman Fir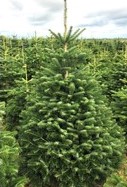 Without doubt the most popular by far is the Nordman Fir. They are generally very bushy trees which have thick needles and have very good needle holding qualities. They are however one of the slowest-growing varieties taking up to 10 year to get to 6'. This means they are also one of the most expensive of all the Christmas trees varieties.
Fraser Fir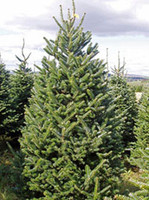 If you are tight on space, then a Fraser Fir may be the perfect variety of Christmas tree for you. These are equally as good at holding its needles as the Nordman but they are quite narrow which is perfect if you are limited on space. Fraser Firs also have strong upward branches which are ideal for hanging heavy decorations. But if you like your trees to be symmetrical these may not be the variety for you as Frasers have quirky irregular shapes so no 2 are ever the same
Norway Spruce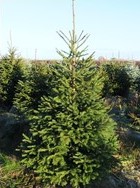 This is your traditional Christmas Tree which many people associate with Christmas. This variety have the tiny thin needles that used to have a bad reputation for dropping but if kept watered and away from direct heat this tree will hold its needles equally as well.
Blue Spruce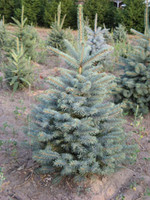 Apart from its distinctive silvery blue colour this variety produces an amazing citrus aroma which fills your room and is also good at holding its needles. The only draw back is that the needles tend to be more spiky than other varieties, so you need to be careful when handling and decorating your tree.
Potted Trees
If you don't like the idea of a cut tree you can always go for a potted tree. But there are 2 different types to know about. Potted and Pot-Grown. Potted Trees are dug up out of the ground and placed into a pot. Sounds good but when they are dug up important roots can sometimes be severed meaning the tree won't survive. The other type are Pot-Grown trees. It means literally that – that the tree was grown from a seedling in a pot. This sort of tree is limited however to a smaller size because the pot restricts the size of the root ball and therefore its growth beyond a certain height
Potted trees are ideal for both indoor and outdoor use. Being planted in their own pot allows you to water them often, and having their roots means that they stay fresh and retain their needles throughout the Christmas period. You also have the option of being able to plant them on in your garden after Christmas or keep them until next year. But as your tree grows you will need to transfer them into a larger pot each year to allow the roots to spread and the tree to continue to grow.
Displaying your perfect Christmas tree
To display your tree, you will need one very important thing. A water holding tree base. These come in a variety of shapes, designs, colours, materials and price ranges. There are the functional not-so-decorative lower entry level stands that you can cover with a festive tree skirt or wicker basket. Then there are the cast iron highly decorative but more expensive stands. The choice is yours but you will need to know the height of your tree to buy a suitable base that can hold your tree safety and securely.
Displaying your perfect Christmas tree
To help keep your Christmas tree as fresh as possible and prolong its needle holding capability here are some handy tips for you:
As soon as you arrive home, cut 2cm from the base of the trunk and place your tree in bucket of water like a cut flower.
Store it outside in a damp, shady place and topped up with water until you are ready to bring your tree into your house.
place your tree in its water holding base and fill with water. Position your tree preferably away from radiators or direct heat.
And most importantly don't forget to check and water your tree daily. It is surprising how much they can drink!
Displaying your perfect Christmas tree
There are lots of places to buy Christmas trees nowadays – even your local supermarket! The important thing to look out for is that they belong to the British Christmas Tree Growers Association – or the BCTGA. This association was established in 1979 to provide a quality standard for Christmas tree growers across the UK. As members there is a Code of Practice that tree growers must adhere to that ensures their trees are grown in an environmental and sustainable manner whilst at the same time cultivating well shaped, sturdy, healthy trees.
The BCTGA was set up as a result of the Christmas tree trade suffering at the hands of roadside "cowboys" who were giving the public a raw deal or selling poor quality trees that would drop all their needles the second they got them home. The Associations aim is to produce a "kite mark" to label members trees with a stamp of quality so when you buy your tree from us you can do with confidence.
A local Christmas tree farm is the perfect place to buy a tree from as you know these are home-grown trees and freshly cut. Trees from commercial garden centres or high street shops are sometimes imported in from oversees. This not only means it has a bigger carbon footprint but they can be cut a long time in advance and no guarantee they have been stood in water during that time. Plus buying from a Christmas Tree Farm you are also supporting a local family run business so there is the feel good factor too.

Where can you find a Christmas tree farm
Apart from your trusty www.marketharborough.com as your first port of call (obviously!) Google is also your friend. Search "Christmas Tree Farm Market Harborough" and see where is local to you. Ask your friends or family where they would recommend then look on their Facebook or Instagram pages to see what they do and read the reviews – this is key. Often Christmas Tree farms have much more going on than just trees. Many have festive shops with decorations and lights, some even have Santa's grottos, farm animals or even reindeer to say hello to!
Were to buy locally
If you want a truly magical experience then we would recommend Welford Christmas Tree Farm. They are on the border of Leicestershire and Northamptonshire – just 13 minutes from Market Harborough – and they are a family run working farm and have been growing trees for over 20 years. They have won multiple awards for their trees at the prestigious annual British Christmas Tree Growers Association (BCTGA) Awards – their equivalent of the BAFTAS. They have also won 'Champion Wreath' at the same awards where their handmade wreath adorned the Prime Ministers front door at No. 10 Downing Street on 3 separate occasions.